---
Music For Mimosa Pudica & Codariocalyx
(2015) - available
here
Special edition cassette + 27 page booklet with background info and interview (in japanese + english)
out sept 1st 2023 through Tokyo based
Kankyō Records
!this edition features an extra track from the original recording sessions.
"When Sigrid Volders & Narelle Dore asked me to make a musical mix for the presentation of their project "Earth.Rope.Pot.Plant", i immediately thought of the "Plantasia" album by Mort Garson, who is one of my favourite electronic composers. Little did i know, i soon discovered, although truly amazing, it is just one of many plant-related albums. Roger Roger, that other pioneer of electronic library music, made "De La Musique et Des Secrets Pour Enchanter vos Plantes" in 1978, a remarkable album which, like the Mort Garson album, also included a booklet with enchanting text and pictures. For me, discovering more and more, it all began to form into this greater spiral of interest. I saw the film "The Secret Life Of Plants" and this documentary called "Mind Of Plants" by Jacques Mitsch (Arte 2009). After which i immediately obtained some codariocalyx and mimosa pudica seeds; both known as the dancing- and sensitive plants respectively. I really wanted to start growing these plants myself. When the first seedlings popped up, in my head a plan began to grow. You get emotionally attached to plants, watering them at specific times and taking care of them every day; something that was new to me, really. After the codario was already grown quite a bit, i started placing a little speaker next to it and play it gentle electronic sounds. The littlest leaves would start twitching and turning right after these waves of sound would come out of the speaker. As for the mimosa pudica, it was rather obvious from the beginning this was a very sensitive being; The slightest touch or breeze would set off it's receptors, folding up it's leaves one by one and even branches collapsing towards it's roots. I was mesmerized! As an ode to these two botanical beings, i decided to make sounds which are gathered here. Enjoy."
Music By David Edren
Recorded at ll150, Antwerpen, 2015
"Music For Mimosa Pudica & Codariocalyx" was originally a CD attached to the "Earth.Rope.Pot.Plant"-Book by Sigrid Volders and Narelle Dore. (Released May 29, 2015)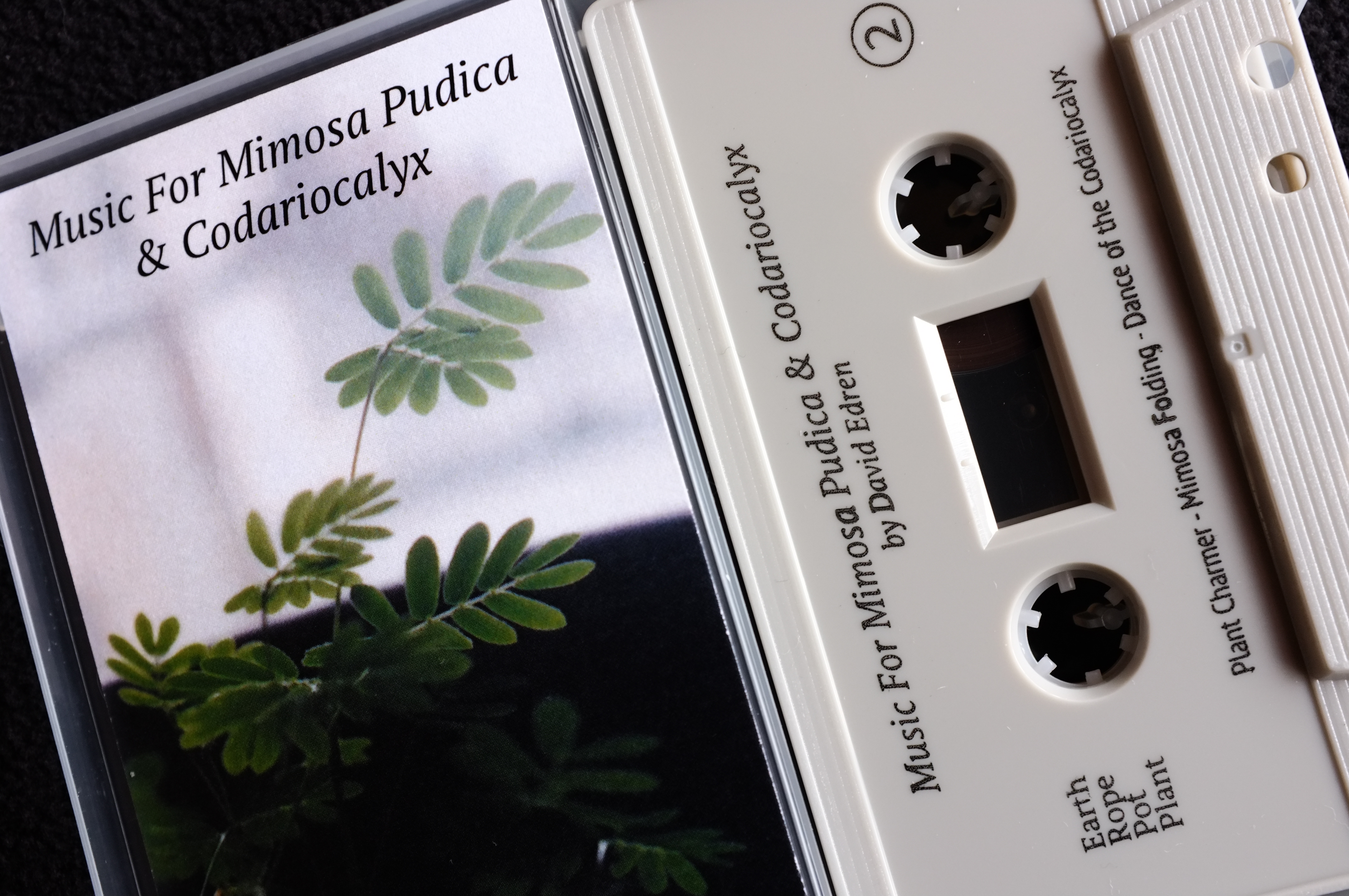 1st edition cassette
(oct 22 2016)
limited edition of 60 mushroom-grey audio cassettes w/ black body print in frosty polycase w/ fullcolour insert card that featured a cover photograph by David Edren. a download code was included to share with a friend.
Published by Earth.Rope.Pot.Plant (ERPP001)